Welcome to another edition of the WWE News Roundup. It's been an eventful 2021 already and we are just weeks away from the WWE Royal Rumble. This week we take a look at AJ Styles teasing a big debut for the WWE Royal Rumble match as well as a Superstar teasing an alliance with Roman Reigns.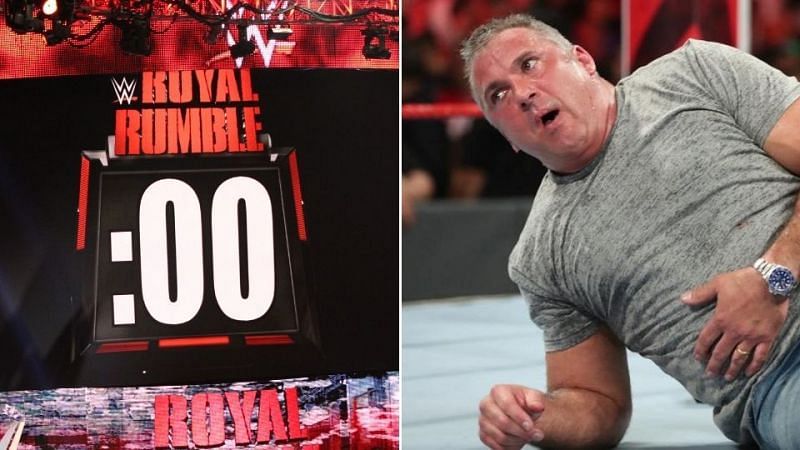 We also take a look at WWE and ECW legend saying that his friendship with Shane McMahon may have 'killed' his career in WWE as well as possible backstage heat on a RAW Superstar.
#6 Raven says his friendship with Shane McMahon 'killed' his WWE career
Former WWE and ECW star Raven was recently a guest on Scheduled For Two Falls. During his appearance on the show, Raven was asked about his close friendship with Shane McMahon back in the day. After being asked about the Johnny Polo gimmick, Raven said that it was a gimmick that would have suited Shane McMahon a lot better.
Raven then opened up about how close he was to Shane McMahon at one point and how it drew heat from Vince and Linda McMahon. Raven added that he believed that the heat he got from his friendship with Shane McMahon may have played a role in killing his WWE career.
"Yeah that's true. Me and Shane used to be really tight but we drifted apart. He'd go out with me every night. Big heat with Linda and Vince. The boys thought I was kissing a** for my career but it actually killed my career, giving me heat."
Following his first run in WWE in the early 90s as Johnny Polo, he reinvented himself in ECW as the brooding Raven character, quickly finding success. After a run-in WCW, Raven returned to WWE in 2000. This run saw Raven win 27 WWE Harcore Championships before his departure from the promotion in 2003.
#5 AJ Styles teases Omos' in-ring WWE debut in the Royal Rumble match
AJ Styles was a guest on last Wednesday's edition of WWE's The Bump. Talk of the Royal Rumble came up during Styles' interview on The Bump, and he teased that Omos could be making his in-ring WWE debut during the men's Royal Rumble match. Here's what Styles had to say:
"Omos is just showing you guys a taste of what he can do. He is much more than just a guy who can throw a Karate kid 7-foot high. He's much more than that. We've got a lot more to show yet. Who knows what's gonna happen next. You know, the Royal Rumble is around the corner. Think about that."
AJ Styles, who made his WWE debut in the 2016 Royal Rumble match, has already announced that he will be a part of the 2021 men's Royal Rumble match. Styles made the announcement on RAW Legends Right last week. The former WWE Champion was a part of the men's Royal Rumble match last year. He picked up an injury during the match before being eliminated by Edge.
#4 Apollo Crews teases an alliance with WWE Universal Champion Roman Reigns
WWE SmackDown did not end the way Roman Reigns would have wanted last night. After playing mind games with Adam Pearce all night regarding the stipulation for their match at the Royal Rumble, it was the WWE official who ended up having the last laugh.
Pearce revealed during the contract signing segment that he was not medically cleared to compete at the Royal Rumble. He announced that he would be replaced by Kevin Owens and that Reigns would be defending the WWE Universal Championship against KO in a Last Man Standing match at the Rumble.
Another interesting thing that happened on SmackDown with Roman Reigns was WWE teasing an alliance between Reigns and Apollo. The former NXT star was seen in a backstage segment with Roman Reigns and Paul Heyman, taking advice from The Tribal Chief. Apollo Crews has been teasing a heel turn since his match against Big E last week, and there is speculation now that Crews could now align himself with Roman Reigns.
#3 Bobby Lashley wants to wrestle Brock Lesnar
Bobby Lashley recently took to Twitter to call Riddle a 'Brock wannabe'. Lashley teased that after he was done handing Riddle, he was ready to go up against 'The Beast Incarnate' Brock Lesnar. Bobby Lashley, who is the current WWE United States Champion, has been dominant on RAW recently and a Lashey vs. Lesnar match is one that a large section of fans have been wanting to see for a while.
#2 Shane Taylor says Keith Lee can become the 'top guy' on WWE RAW
WWE RAW Superstar Keith Lee's former teammate and current Ring of Honor star Shane Taylor was recently a guest on SK Wrestling's UnSKripted with Dr. Chris Featherstone.
During the interview, Shane Taylor opened up about his former tag team partner in ROH. Taylor said that he's been following Lee in WWE and praised him for making history in NXT and then being called up to the main roster. Taylor added that he felt that Keith Lee had what it takes to become the 'top guy' on RAW, and it was only a 'matter of time' before he achieved that:
"The goal when we started was for us to both have careers from doing this and we've accomplished that main goal. I could not be happier at the success that he had in NXT, to make history the way he did. I'm extremely happy for him to be on RAW now doing the things that he's doing and in my opinion, it's only going to be a matter of time before his is the very top guy on that brand."
During his interview with Sportskeeda, Shane Taylor also revealed his favorite wrestling match of all time. You can check that out HERE.
#1 Backstage heat on WWE RAW Superstar Mustafa Ali?
Mustafa Ali made some controversial comments on RAW Talk following Legends Night. Ali criticized WWE for pushing legends who, in his words, could 'barely walk' over some of the current Superstars. Ali also mentioned how WWE is piping in crowd noise, which is being done by a lot of major sports right now.
According to a report from Sean Ross Sapp of Fightful Select, there are those in WWE who are unhappy with Ali mentioning that WWE are piping in crowd noise, although it's pretty obvious that they are. Here's what the report said:
"I had heard that there was someone who took exception to him making light that they pipe in stuff… I asked about this, I was like, 'What would anyone be mad at?' And they're like, 'Well he said that they piped in noise.' I said, 'They do!' And this person said, 'Yeah, but we don't want them going out there and saying that.' I'm like, 'Why not? It's obvious. It's okay. Baseball does it. Football does it. Basketball does it. Don't treat us like we're stupid.'"
Ali followed up what he said following RAW Legends Night by tweeting out a photo captioned 'we don't know if we can give you a live mic again'.