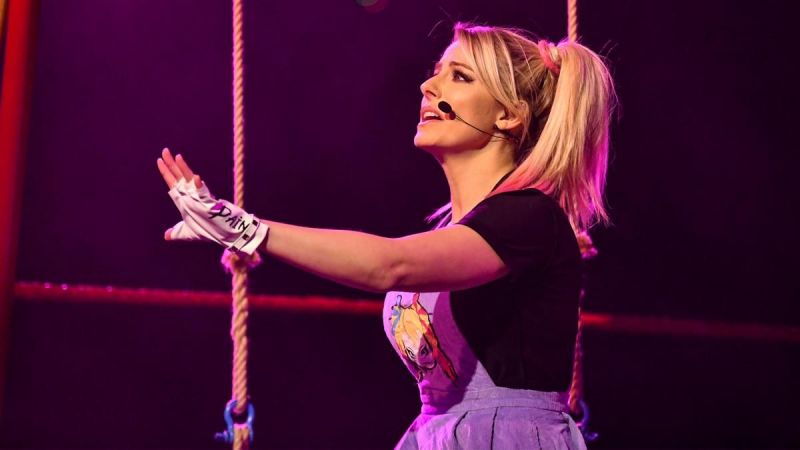 Alexa Bliss shot a fireball at Randy Orton on last week's show, and it is clear that for all the WWE Superstars he has faced during the course of his career, he has finally met his match in this diminutive 5-foot tall star.
Could Randy Orton, the Apex Predator, embark on a new career trajectory on this week's episode of RAW, where he finds a new ally to take Alexa Bliss down?
Here are five WWE Superstars that he could align with, each of whom can prove to be a handful for Little Miss Bliss over the coming weeks.
None of them may exactly have the same supernatural powers that Alexa Bliss does, but then again, coupled with Randy Orton's devious mind, the possibilities are limitless.
---
#5 Could Randy Orton call Rhea Ripley from WWE NXT to take Alexa Bliss down?
Reports had emerged that Rhea Ripley was one of the names being considered to move up to the main roster.
This is what PWInsider had to say about Rhea Ripley's imminent arrival:
The current belief is that last night's New Year's Evil broadcast was planned to be the final NXT appearances for Rhea Ripley and Damian Priest and they each will be shifted to the main roster. While things can always change based on the whims of Vince McMahon, Priest's loss to Karrion Kross and Rhea's loss to Raquel Gonzalez were devised with the idea those were the end of the NXT chapters of their career."
For Rhea Ripley to be called up as Randy Orton's friend would be the perfect way to debut her on WWE RAW, smack dab in the middle of the hottest storyline (quite literally because of the fireballs involved) currently. Alexa Bliss may indeed have her hands full.
---
#4 Randy Orton could use the history between Nikki Cross and Alexa Bliss to brainwash her
Alexa Bliss has gone to a dark place and Randy Orton has his hands full. What he needs is someone else who has been to such a dark place at some point in time, which is where the NXT version of Nikki Cross could come in, unleashing evil upon the world.
Many people were disappointed that this version of Nikki Cross was not called up to the main roster, but could we see this avatar of the Scotswoman in the days that follow as a potential ally for Randy Orton?
Alexa Bliss and Nikki Cross used to be the best of friends until she was brainwashed and decided that she preferred being The Fiend's companion.
Randy Orton is the master of mind games and he is definitely capable of brainwashing Nikki Cross too, making her believe that she needs to turn heel. Cross turning heel could also work wonders for her because she's been stale for a long time now.
---
#3 Randy Orton could also call upon the services of someone he's known for a very long time now, Mickie James, to take Alexa Bliss down for good
Randy Orton could certainly call upon someone who's known Alexa Bliss for a long time to take her down. And yes, this person has also known Randy Orton for a long time because of her longevity in the company, which could be a device that the company uses to make this pairing official.
Mickie James and Alexa Bliss were the best of friends at one point in time and enemies at another, and this history could be used to tell this story. Mickie James and Alexa Bliss obviously like one another a lot, which is why they wouldn't mind working against each other either.
There were reports that Mickie James had called it a day after being dubbed a 'legend' on RAW Legends Night, but those rumors were dispelled soon after. James can still go like she could in her prime and could be a valuable ally for Randy Orton.
---
#2 We haven't seen Naomi in some time, so could she potentially return with Randy Orton to take on Alexa Bliss?
So, Randy Orton needs someone to take Alexa Bliss down. He can't just call upon your standard performer from the active roster because that would make no sense. Alexa Bliss seemingly has tapped into the powers of the supernatural, and even Randy Orton's mind games seem to be no match for them.
Could Naomi return as a heel and align with Randy Orton to take Alexa Bliss down? We have seen members of the Anoa'i family tap into their heel personas and it would make sense for Naomi to channel a degree of darkness as well. In time, she could be made a part of Roman Reigns' stable.
Naomi's achievements in the roster speak for themselves, and honestly, for her to be on the sidelines doing nothing is a waste of her talents. Naomi and Randy Orton vs. The Fiend and Alexa Bliss could be a major match at some point down the line.
---
#1 Could Asuka turn heel and align with Randy Orton after facing Alexa Bliss on WWE RAW?
Randy Orton may not be Alexa Bliss' biggest fan, but we at SK Wrestling are, which is why we've created a special tribute that you can check out by clicking on the link shared right above.
Randy Orton and Asuka would prove to be a formidable alliance against Alexa Bliss and Bray Wyatt for sure. And this alliance could happen after the match between Alexa Bliss and Asuka on this week's episode of WWE RAW that fans have been eagerly waiting for.
We know that Asuka has to turn heel at some point so that Charlotte Flair can go after the WWE RAW Women's Championship, effectively splitting up the tag team champions for good. There's no time like the present because it could happen as soon as this week's episode of RAW.
Randy Orton can also become Asuka's mouthpiece, cutting promos for her to overcome her disadvantage of English not being her first language. It would be an interesting pairing for sure.